First Settlers
In the early days of settlement of the Lilydale District the area was covered with dense bush, so each new land purchase had to be painstakingly cleared before any crops could be grown.

Lilydale is situated at the foot of Mt Arthur and the two are closely linked. For nearly 100 years timber from the slopes of the mountain was used first for shingles and palings and then mill logs and sawn timber.

The settlers traded butter, eggs and vegetables in Launceston for groceries, and sometimes they were able to get rides to Launceston on the tram which carried timber for the water powered sawmill at Underwood.

The opening of the Lisle Goldfields in 1879 opened new markets for the produce grown in the district. The goods were taken to Lisle on the 'Lisle Track' (opened on the northern side of Mt Arthur). At times up to 26 pack horses could be found in Lisle selling goods produced in Lilydale to the miners. At this time the district was known as 'Upper Piper', but this was changed to Lilydale in 1887.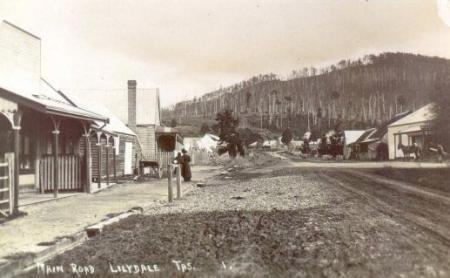 Lilydale's Main Road